If you'd like to discuss this devblog, feel free to head on over to the feedback thread on the official forums!
At EVE Vegas 2018, we announced that work had begun on the transition to a 64-bit client. We're now happy to announce that this project is seeing rock solid progress and we're aiming for a Q2 2019 release.
The aim of this project is twofold – continued investment in the future of EVE Online with regular technical upgrades, as well as efforts to ensure that New Eden remains as visually stunning as ever, on the cutting edge of what's graphically possible for an MMO (when you're not playing in potato mode).
Right now, the audio and graphics team are deep in the testing phase in preparation for a public test on March 5th, which is when you'll be able to get your hands on the 64-bit client for the first time by connecting to the Duality test server.
We're super excited about the move to a 64-bit client as it represents a key modernization moment in the development of EVE Online and is substantial milestone in our drive to move with industry standards and continue to streamline our development maintenance costs.
With the switch to a 64-bit client we have decided to drop support for the 32-bit client, given that only around 0.5% of our pilots are currently playing on 32bit operating systems and the cost to support both architectures isn't where we want to invest our development time.
To facilitate the switch to 64-bit client architecture, we'll also be looking to change the minimum requirements for EVE Online. The nature of 64-bit applications means that they utilize more memory. As such, we'll be increasing then minimum memory requirements for EVE Online from 2GB to 4GB when we release the 64-bit client.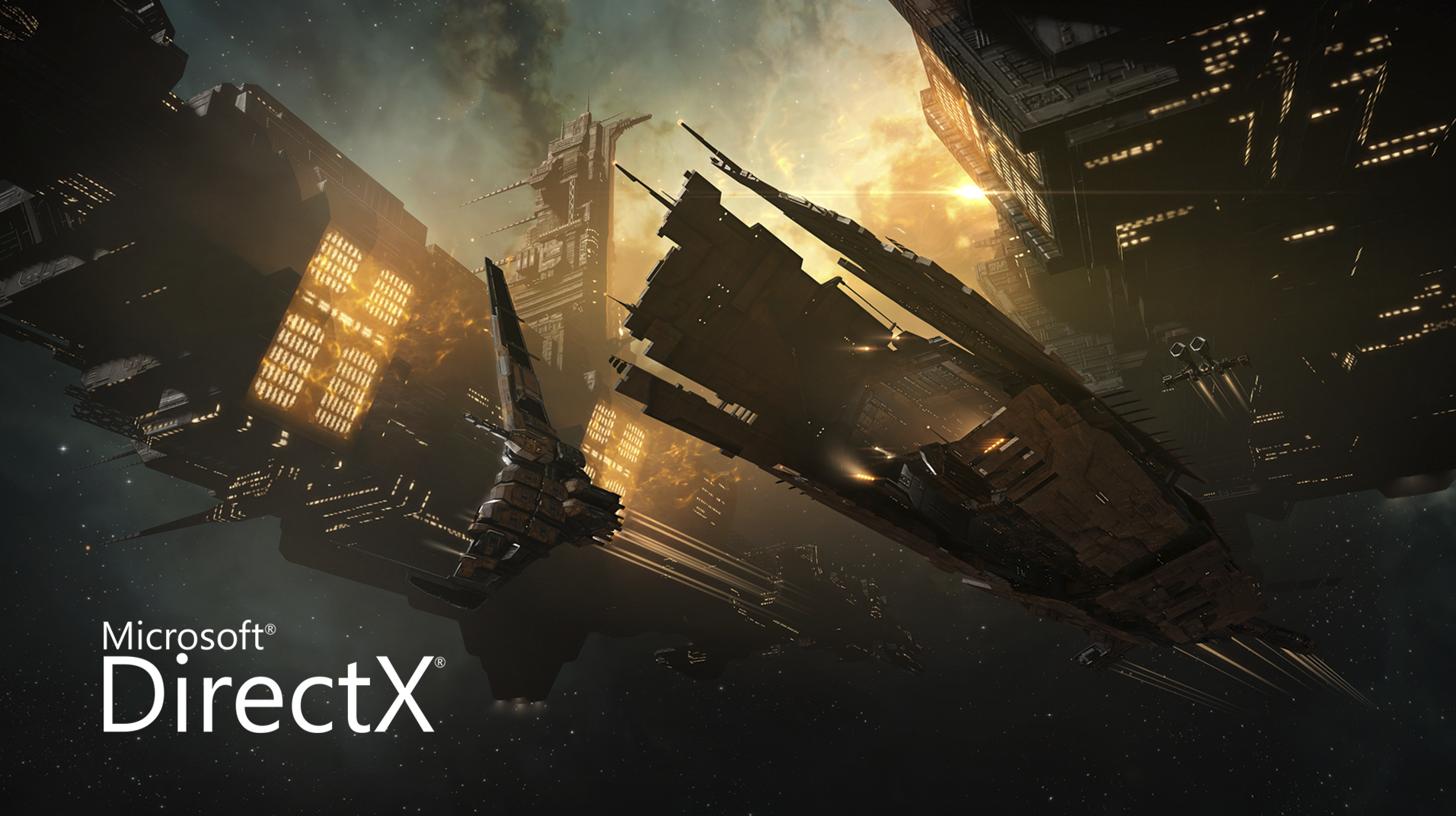 DirectX 12
As we continue to invest in the future of one of the most iconic and beautiful sci-fi MMOs, we need to lay the groundwork for future technologies.
We're excited to announce that our engine team have started work on the substantial task of providing DirectX 12 capabilities for EVE Online.
Switching to DirectX 12 will give us a huge increase in bandwidth to utilize more modern advances in graphics technology to continue to make New Eden more stunning than ever before. With DirectX 12 we'll be able to use technologies such as DirectX Raytracing, and will be able to invest more time into overhauling effects, environments and visual feedback in EVE Online to provide an even richer and more immersive experience for all our pilots.
Since 2016, we've hinted at the eventual sunsetting of DirectX 9, and more recently we reset EVE Online's default DX API to DirectX 11 to gauge how many of our pilots would switch back.
The results of this experiment coupled with the decision to invest in continued future proofing by moving to DirectX 12 means that we've made the decision to sunset our support for DirectX 9.
The date for the sunset of DirectX 9 will of course be tied to the release of the DirectX 12 client, which will be announced at a date to be decided in the future.
The transition to a 64-bit client will of course come first, but you can expect us to keep you updated on progress of the transition to DirectX 12 after that via dev blogs and more information at EVE World Tour events during 2019.
The release of a DirectX 12 client will mean that all pilots will need a DirectX 11 capable graphics card as a minimum requirement to play EVE. We understand that this is a leap from a DirectX 9 capable card for some of our pilots, and we'll be sure to give at least six months of notice before the transition to DirectX 12 so that there's ample preparation time, should hardware upgrades be needed.
Mac Users
One question does of course remain – what about those pilots who're playing on the Mac client? Fear not! We're currently working with our partners to ensure that all the above also applies to the mac client too. We'll have more information for our mac users as soon as we've made more progress with the Mac client and are ready to talk more about transition plans for those playing on macOS.
Come Help Us Test!
As we mentioned earlier in the blog, we'll begin public testing of the 64-bit client on Duality, on March 5th.
We'd love to have as many pilots as possible helping to make sure that everything is running smoothly and providing feedback on performance and any issues that might be encountered.
We'll have more information on how to connect to Duality and how to get involved once testing commences.
For now, if you have any feedback or comments, then we'd love to hear from you all in the comments thread for this blog.
That's it for now – we're looking forward to seeing many of you on Duality next week.
Fly safe!
o7