As part of the Keynote speech this year at the annual EVE Fanfest celebration it was announced by CCP that the previously named Project Aurora has now been titled EVE: War of Ascension.
Whilst some may have thought that an announcement made on PlayRaven's website, the developer in partnership with CCP for this project, was an accidental leak this was not the case.
During the presentation, it was mentioned by Hilmar Veigar Pétursson, CEO of CCP Games, that this doesn't mean they will be completely stepping away from the existing VR projects, just that the focus in this area will be changed until the market in this area increases. This was met by some apprehension by the players watching the presentation first hand as this appeared to be one of the main focuses of the keynote which was otherwise lackluster.
All players who had bought tickets and registered with an email address via Eventbrite prior to fanfest were informed that they would be able to download and playtest this new game going forward. This opportunity was quickly taken up by many players in attendance as something to allow them to get some kind of EVE fix whilst away from their PCs.
I soon became aware of how much this was being used by those seemingly constantly plugged into battery packs whilst walking around the Harpa and Reykjavik itself. Following on from this I contacted a range of players to see what their thoughts were on the game as discussed below.
—–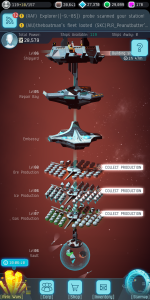 Setup –
The unanimous response was that no tutorial was provided, though the setup seemed fairly straightforward for any players who have experience of similar mobile games in the past.
Communication –
The game comes with its own form of notification system similar to that of EVE Online where messages can be exchanged between friends, who are apparently fairly easy to find.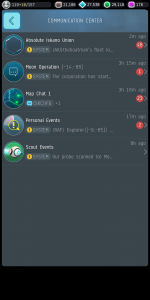 Gameplay –
The options available in game are similar to that of EVE Online in that it includes the following; Mining, Moon mining, Research, Production, PvP, Capture Territory, Relic sites, and supporting fellow players. As the player's focus is based on a starbase it appears similar to the recent citadel expansion into EVE Online. However, the question remains that is the inclusion of waiting times due to its connection with EVE Online, or simply due to the target audience being aimed at similar types of mobile games. There is also a small version of a battle report generated once a fight has occurred in the notification window but nothing in great detail.
Branding –
Other than the title of the application being EVE: War of Ascension there is little to indicate a connection to EVE as there is no internal mention of any similarities other than those known by players. Including the lack of detail in where the game is apparently based.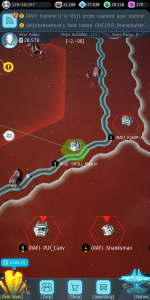 Playtime –
As with the wait times in EVE Online its regular use shows that this does not put off those wanting to play often. All of those who responded to my questions have stated that they have played it for the duration of fanfest, the majority of whom would recommend it to other players.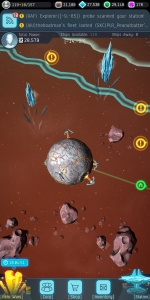 Improvements –
The sought after changes are the reduction in the battery usage, as previously mentioned the game required most players to use an external battery pack during operation. As well as the ability to team up with corporation members as opposed to just during a defensive situation, which is noticeably different to the options available in EVE Online.
—–
The overall picture appears to come across as a positive response with certain areas needing further development, which is to be expected on a new game that has yet to be tested by a large player base. There is no indication as to where this game will fit in the universe of EVE Online, or if it will be based completely separate to the existing game, allowing CCP to potentially expand outside of the current setup.
With the focus apparently shifting away from VR it appears that CCP are still keen to try and expand into other areas. There was also a hint at Project Nova, now confirmed to be a first person shooter for the PC, which will be based in EVE Online but not initially connected as Dust 514 was. Apparently to ensure that the game is fully operational and self-sustaining before attempting the mammoth task of combining the two, which had a positive response for the most part.
In the end, it shows that the playerbase is more than willing to try new things and CCP are continuing to push the boundaries of their comfort zone. Proving that they aren't planning on stopping anytime soon.

Featured Image: Playraven
Screenshots: Maikar