With Citadels being the newest addition to the Eve Online world, it was only a matter of time before they started going down.  To see our previous story about Citadels and what the latest patch entails, you can go here.
An Astrahus Citadel belonging to General Tso's Alliance was destroyed by the combined forces of Shadow Cartel and WAFFLES in the LOWSEC system of Seyllin.  Gremk, the Fleet Commander for Shadow Cartel, provided the details of the killmail.  According to Gremk, Shadow Cartel has a Director-level spy inside of General Tso's Alliance.  That spy provided the details that a Citadel was onlining and would be coming out shortly.  After confirming the Citadel was onlining, the ping went out to form a fleet and the fleet traveled to Seyllin.  Once arriving on grid, a WAFFLES fleet had also arrived for the same purpose.  Seeing as the WAFFLES fleet was outnumbered and outclassed by ship, the FC convo'd Gremk asking to join in on the fun.  As the members of General Tso's had recently "popped a Shadow Cartel cyno, causing great anger," Gremk agreed to the proposition with the end result being the first LOWSEC Citadel destroyed.  General Tso's attempted to form a defense fleet consisting of five Tristans and a Bifrost, but had failed to setup any defenses on the Citadel and had no choice but to watch as their recently onlined Citadel was quickly destroyed.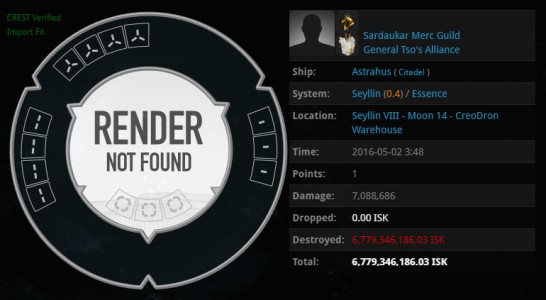 This fight, really an execution, highlights some of the mechanics of the new Citadels.  The 15 minute timer to fit defensive modules to the Citadel makes it necessary to have a fleet on stand-by during this particularly vulnerable window.  I'll be examining the mechanics of Citadels more in-depth in an article coming to Eve News24 soon.
With the Citadels being so new, everyone is rushing to get one up and running, which means other folks are itching to get those killmails.  The kills so far, have all been on the Astrahus, the smallest of the Citadels.  The Fortizar, Keepstar and Upwell Palantine Keepstar will be a tougher challenge, both to deploy and destroy.  In time Eve players will find the best and most inventive ways to defend these new Eve structures, making them more difficult to destroy in the future.  But in the short term, I think we'll continue to see these Citadels, in particular the Astrahus go down.  Thirteen of these Citadels have been destroyed since their release at the time of writing.  What do you think?
Caesar Manson is a member of Rolled Out, Shadow Cartel.