September 19th is the date, and Nottingham is the place, for what has become the UK's premier Eve gathering, #EVE_NT.
But if you have any plans on going and haven't already bought a ticket, you might have to pull some strings, as the event sold out all of it's 190 tickets as of the 9th of this month, more than a month before the event itself.
For those of you who managed to snap them up; lots of big names from the EVE player community as well as CCP developers will be in attendance. The developers include CCP Guard (with party raiding hat) CCP Fozzie, CCP Curtis, and CCP Ruffige.
The attraction of the event doesn't just end with the guest list: EVE Valkyrie will be attending again as will EVE Gunjack, giving a chance for attendees to try both games out. Bei ArtJay (Ministry Of Inappropriate Footwork) with the help of Bob Shaftoes (The Camel Empire) and various guest commentators will be running the 64 man EVE tournament in the main bar and restaurant. The format will be similar to last time; 2v2 knock-out and with prizes totalling an impressive £2500, generously donated by sponsors; Plantronics, Chillblast, CoolerMaster and Razor. If that wasn't enough the first 100 attendees will receive a free Plex and a beer, courtesy of headline sponsor EVE Bet.
In addition there will be several guest speakers (including CCP), personalised beer bottle printing by Vedett, charity raffle and a VIP Poker tournament hosted by EOH Poker. The Poker tournament has a buy-in of 10 billion ISK and all the proceeds plus additions from EOH will be distributed to the winners, to sign up please visit EOHPoker.com.
Then to round the whole day off, Nottingham's favourite bartender Joe Blow and his rag tag band will perform classic rock songs to the hardy crowd that can still hold on after a what is bound to be a packed day.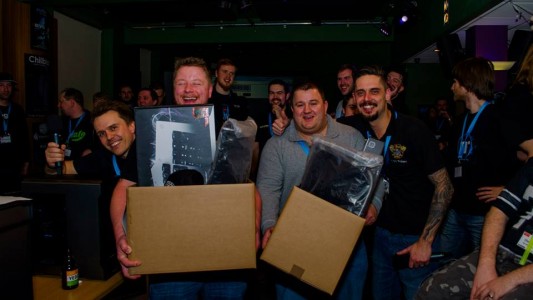 I took some time to get in contact with the organizer of #EVE_NT and CEO/Executor of The Bastards, Nashh Kadavr, to find out what it takes to organize what (in only a year) has become one of the most anticipated UK Eve Events.
What inspired you to start putting together a player event? Do you personally have experience in organizing such events?
I manage a small venue in Nottingham called Antenna that regularly puts on small meetings and events, most of these events require a fairly high tech spec for equipment and presentations. Having access to these facilities and my personal passion for EVE made me think if the two could be combined.

Having attended various eve-meets I wanted to do something slightly different and not just provide a place to meet but also provide content to make the event stand out from the crowd.
Eve Nottingham is a huge event in comparison to other UK Eve Meets, you have sponsors, talks, demos, it must be a huge amount of work, right?
I cannot begin to describe how much time and effort goes into this project. A lot of time is spent on; securing volunteers, planning, agreeing sponsorship deals, convincing people this is worth coming to, planning and creating content, logistics, admin, budgeting… the list is endless.

Getting sponsors has been very difficult; managing some sponsors has been even harder. To get sponsors I have begged and begged EVE third parties and proposed various deals in return for their investment. Real life sponsors have been harder to obtain, I have attended several large gaming conventions and had to use the little charm I have, to convince them this event is the best and they will get value for their participation.

Then getting their actual confirmation or chasing up their half of the deal has been stressful to say the least. For anyone attempting to do something like this I recommend you start with EVE third parties before attempting anything outside of the EVE community. Be prepared to be disappointed, be prepared for the fact you will have to offer something in return; screen advertising, posters, mentions in blogs, interviews, social media marketing etc etc.
In addition to the actual organisation how much work has gone into promoting the event?
As much as I can really, part of a lot of the sponsorship deals require their logo's present wherever possible, social media coverage, Facebook, twitter, forums, interviews. Wherever I can I want to reach out to the community and let them know about the event.
To be honest, it's not all about #EVE_NT; it's about EVE-meets everywhere. I try to attend as many meets as possible not just to advertise my own but also to show my support for their efforts. Anyone with the balls to organise something like this gets a big thumbs up from me and if I can help in any way I will.
Has the success of the event surprised you? How does it make you feel to put together such a popular event?
I am very happy that it has become so popular and am really flattered by comments from CCP'ers and players' saying it's the best event and best organised event they have been to.

But knowing the amount of work has gone into this and with help from countless volunteers I think it's difficult not to deliver something good. All of those involved in this project love gaming, love CCP and EVE and are very dedicated to make this a success.
What important lessons did you learn from running these events?
Don't do it! Just kidding, just do it man! Get a forum post going and start with a pub-meet. See where it takes you and see how much effort and time you are willing to stick into it. Most importantly; build a team around you of people you trust, people that can provide their skillset to your idea. Do not be afraid to ask for help; the EVE community is the best.
Do you have any specific plans for next year?
I will need a little break when this one is done before I finalise plans for the next one.  I have already discussed some options with the team and the likelihood is we try to add one more room to the mix which in theory would allow for a few more attendees, but that thought is a little scary at the moment. The first event cost me, personally, a few hundred pounds, the second one nearly broke even and this one looks to be staying within budget, maybe. With this in mind there is obviously the temptation to increase the ticket price, selling out a month before the start of the event does this, a tight budget forces me to think about it.

I never started this with the intention to make money and that will not change, but it would be nice to reduce stress levels if the budget wasn't so damn tight.
What are your plans for Eve_NT in the future?
#EVE_NT will continue for at least one more full year, so after this September there will be a further two in 2016. That is as much as I can commit to at the moment; additionally I have sponsorship deals in place that last until then.

After 2016? I really can't say what will happen after that, I am also running an additional project called #EVE_NT Collides which I endeavour to make a great success in the area of EVE E-sports; this project takes up a lot of time as well, if not more.  Additionally I may run for CSM next year just to make my life a bit more difficult, but more on that later.

I have technically bought my 50% share of #EVE_NT Collides from Bei ArtJay, its founder, in return for half of #EVE_NT. This has been done deliberately as Bei has been an incredible asset to #EVE_NT and partly because I really believe in the Collides project. I have a passion for EVE tournaments and I want to be a big part of its future.
What are you personally looking forward to at the event this year?
Meeting old and new friends, familiar faces and meeting first timers. The days leading up to the event and the event itself are rather hectic but I try to have a good time myself as well. Unfortunately I don't get enough time to talk to absolutely everyone but I damn well try.
#EVE_NT is shaping up to be a great event. But if you didn't manage to get tickets for this one there will be #EVE_NT 4 in six months time!