Tomorrow marks the debut of CCP Games' "o7", an EVE Online themed show which will air on the Twitch.tv platform. We had the opportunity to chat with Sveinn Kjarval Jóhannesson, also know as CCP Guard who will be the FC for this streaming adventure.
So, tell us a bit about "o7", the format, periodicity, etc?
…o7 is a regular show with a mix of live segments from the studio and pre-recorded content of a wide variety and subject to change between shows and over time. The show is for EVE players or people heavily interested in the EVE Universe and at the moment we're looking at having two shows per release cycle so we'll see how that goes.
How the idea started and what would you like to achieve with it?
The idea of doing a regular show has been brewing for a while actually. We've been doing broadcasts to talk about upcoming expansions but now we're not doing two big expansions anymore and the new release schedule goes well with a regular show.
Also we're realizing an old dream which is to have a permanent studio space in the office as opposed to having to set up the set and the studio for each broadcast. The amount of time and trouble we save by having a permanent space allows us to focus on making content.
This might sound redundant, but given the larger non-EVE viewer exposure this show will get, tell us your reasoning behind the o7 naming.
The name came up during a little brainstorming we had, we'd rolled around a few other ideas that didn't stick and this one just felt right from the moment it was mentioned. The o7 salute is so universal and used for so many things in our world, usually, a sign of respect and good spirit. It's also something our players came up with and we want this show to be a tribute to you guys.
Did the popularity of the EVE alliance tournament play a big part on the decision to make an EVE related Tv show?
All the broadcasts and the live video material we've produced plays a part in why we want to do a show. And in some ways the show is a platform to pull together a lot of things we've been doing previously with new stuff thrown in of course.
During the production of o7, did you find inspiration in other existing internet TV shows?
Maybe a little here and there. We've looked at traditional TV shows and some internet shows for set concept ideas and such but mostly we're going our own way with this I hope.
What about the staff, who will be in it?
I'll be the primary host with help from good friends. Then we have CCP ArnarV and CCP Loki in charge of the broadcasting and production of pre-recorded material. The three of us do a lot of the concept- and editorial work together as the core staff on the show but a lot of other people pitch in and help with all kinds of things, my brothers and sister from the Communications Team, branding, graphics, devs and players talking about cool stuff…it all has to come together.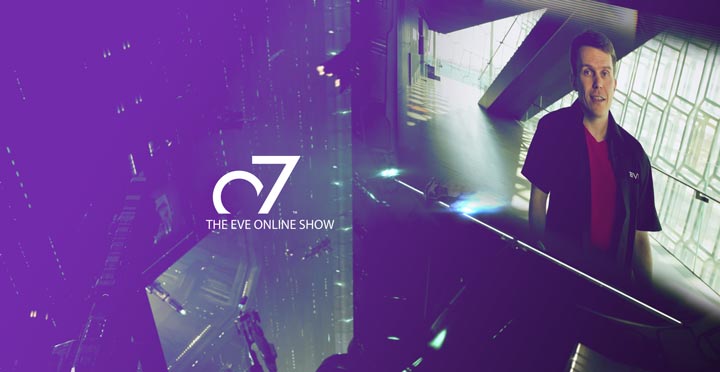 How do you plan to interact with viewers beyond social media?
We want help from the community in evolving the concept moving forward to we'll seek feedback, we'll try to build fun interaction with Twitch chat and through social media and the forums. We look forward to the party.
Do you plan on holding prizes for viewers?
Maybe 🙂
Ha! Great! errhmm.. can we expect any over the top musical numbers?
I thought you knew by now that you can expect anything from us >:)
Dear God!
Finally, what's your personal take on the current state of EVE media?
I think EVE Media is doing good these days. There's good writers and strong sites operating these days and I'm very grateful for all the hard work and ambition our players put into making sure good stories don't fall under the radar.
Sharing is caring <3
Sveinn J. Kjarval AKA CCP Guard is the Community Developer for EVE Online and emissary for the CCP Corporation in New Eden.
—
o7 Premieres tomorrow Thursday at 20:00 UTC on CCP Games official Twitch.tv Channel.
Contest
Also, in the eve of the show's debut CCP Games launched a pretty cool twitter competition:
You can read all the details on how to participate here.