Disclaimer: The Author is a member of one of the parties involved
For once the hype appears to have paid off. What else can one say when local out-populates Jita? Coming mere hours after a hard-fought capital brawl in Cloud Ring, and a good laugh over a Goon Overseer's hilarious leaked Pings to his alliance:
Msg: Listen but closely Gobbins, for Cloud Ring's ihubs seem to be burning while you guys are sitting around in some kind of powwow circle jerk. We came in last night with just some subcaps, yet you could not muster proper resistance. We figured tonight you might be ready, that some kind of defense army for an alliance with "Horde" in the name might be able to bring to bear. Yet you sat cowed in your staging ground cowering in terror, apparently because the night before I went into the yard that you keep GOTG in and cut their leash.
Msg: To my dear friends in PH, pursuant to DED Directive 984.11x you have been found in violation of the Moon Mining Treaty that I just made up when I was bored. I would like to remind you guys that we did offer nicely to assist you in your economy fixing efforts since you seem overextended and incapable of defending your backyard. I know that your hisec operation is quite draining so I would simply like to remind you that our GSF Logisticians and Engineers are expertly trained in dealing with moon matters.

We sat in your space for several hours tonight reprocessing griffins and interceptors into wrecks and you couldn't stop us from setting a couple of ihubs on fire. Surely you can muster a response in your own backyard that's beyond a few recycable frigates and interceptors? I'm afraid I'm going to have to tell you to kindly yank hard on GOTG's leash so they can defend your space since they obviously do a better job. Also I have some CONCORD approved harnesses so you don't choke them when you yank on their leash, you must be humane to your pets after all. (Ping approved by PETA, be kind to your pets everyone).
I warned you last month that this would happen… because you know what happens to the alliance that is normally a meat shield when they can not in turn call their own meat shield? Devastation, that's what. Also I hope you are using the fuzzy handcuffs and leash that I sent you, as you should always be humane to your pets.

 Horde, I suggest that you forget the promise of progress and support for the new pilot. In the grim darkness of nullsec there is only war. There is no peace amongst the stars, only an eternity of carnage, death, and the laughter of bees. You would do well to remember
These indicate just how far gone into sadistic role-play some folks over there have descended. That said, We have to give full recognition that they brought us 2 great fights and brought it well.  GOTG, PH, & Friends continued with the strategy of eliminating Goon citadels  (and immediately anchoring friendly ones) in the NPC system of ROIR-Y which the Goons had been developing as an advanced base "behind enemy lines", as it were, to disrupt mining and ratting further North in an attempt to distract GOTG from the vital task of supporting PH in Cloud Ring.
With so many targets simultaneously vulnerable, both a  confessor fleet and a Capital fleet attempted to station-camp the goons already in system, who were led by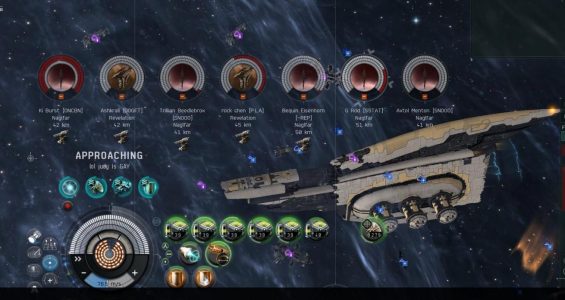 probably the most effective Goon FC, Asher Elias. This was a different kind of fight. No mere "clash of blobs", but with numerous skirmishes taking place among the various fleet comps, which included Goon   Macharials, Ishtars, Lokis, and Cerbs with a handful of supporting Dreadnoughts along with an Initiative Ferox fleet & Test Alliance in Bombers faced GOTG Confessors, Lokis, Capitals, and Supers along with PH Tempests & Capitals  and NC. who came all the way from Provi in bombers. The battle report does show that the Northeners did make up some lost ground in the ISK war from the capital engagement earlier in the day. Although the fleet I was in sadly had to awox a blue Apostle-class force auxiliary carrier right at the end when the pilot was unresponsive.
Final thoughts.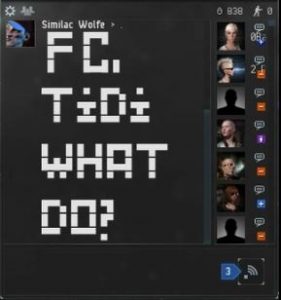 As personally disappointed I was at having my Super held in reserve during the first fight and then having no Capital opposition (apart from a handful of dreadnoughts on another grid) after jumping to ROIR-Y, as far as these fights are concerned, they were hard-fought all around, and all players on all sides deserve credit for enduring the lag  and time-dilation that at times leave the game borderline unplayable when more than a few hundred ships are on grid (CCPlease Server Uprade maybe?), especially for those of us residing in places with less-than-top-of-the-line internet. Comparing  CCP's recent ads to what actually happens sometimes makes my case in full. How many other games would I have to speed up the gameplay 800% to produce something watchable? It's moments like that when you realize that we players who endure the recurring issues of constant freezes and unresponsive game commands during big fights do so more out of commitment to the fellow pilots in our various corps, alliances and our leaders than anything else.
While with the loss of 7 out of 9 targeted Goon citadels in ROIR-Y is a heavy blow to the Goon's tactical options from ROIR-Y, it's unlikely they will be departing shortly. Not sure that we can expect any let-up on grammatical facepalm-inducing Kool-Aide any time soon though….