As you may already know, CCP has decided to give out special, limited edition ships to all attendants of EVE Vegas and EVE Fanfest. Specifically, these ships are, according to lore, made by CONCORD for use by their agents. Fanfest visitors have received Pacifiers and Enforcers, while attendees of both events found themselves in posession of a shiny new hull called the Marshal. The battleship, similar to the two aforementioned ships, will remain time-sensitive and will not be attainable via different means until December.
Now, expectedly, there was some commotion regarding the ships' release, but soon, they incorporated in the usual EVE cycle of destruction (I would say 'and creation', but we do not have the ability to replace these hulls – yet).
As is tradition, the first kill of new vessels proves to be fascinating to everyone and, abiding to that tradition, EN24 has reported numerous times on this topic. This article will be no exception, as we have officially got the first real Marshal kill. As you will soon see, this was not a boring kill, even though it was almost 'arranged'. Allegedly, there has been a Marshal destroyed before this incident, but that claim proved incorrect as it was contained in the cargo hold of a freighter, as well as being dropped, not destroyed.
The Marshal, clocking in at just short of 2 billion ISK (according to zkillboard; real Jita hull price at the time of writing is a staggering ~27.5 billion ISK), under command of Nikolai Mazinkov of RvB – Blue Republic, was piloted into the system of Nennamaila in Black Rise. The final blow was dealt by Cpt Blastahoe, the leader of the group which performed the kill, all from Proixois Assault Force. I will post some of the more interesting bits from Nikolai's story, but you can read the full story here.
So I did tell someone at Fanfest I would be the first kills and loss on the Marshal, but some people beat me to it with some kills early in the day, I missed all the memes, the e-mail and such until Reddit told me last night that they were out earlier than I expected. So I knew I had to go ahead and lose it, but wanted to get some kills on the way at least and make a good story. Red vs Blue has a pretty interesting history of whelpage, although usually within RvB or in a special event like low sec+ Tama gate camp suicide charges. I fit it in about 10 mins and made a few big mistakes I didn't notice until later.

A small RvB roam fleet was in Black Rise but I was waiting for RL to settle down, so I fit it mostly in the simulator on my way to Jita, bought the fit and redeemed it, and headed to Black Rise, docked up in HS until I could actually play.
After this, he went roaming in LS.
When I saw Cpt Blastahoe in local I said hi, then realized, hey, he never has more than a handful of guys in his gang, and he gives pretty good fights, so I told him I wasn't in fleet or carrying a cyno, 'cash me outside' and warped to a large complex at range.

There was some good banter, no real trash talk during or after the fight. I did get to see the pretty baller explosion of the beauty but then realized I should probably get my pod out before I get too enamored. Cpt Blastahoe was thrilled and all his guys gave GFs in local, and he gave me a consolation Bhaalgorn with faction/DS mods through a trade after the fight.

So sadly I didn't get any kills since I gave up on one-shotting the ceptor, but since the first dozen kills by the Marshal are mostly crap, I don't think it'll be too hard to get a few good killmarks next time. But still, for the first time in a while I actually had some adrenaline in a fight, and it was good fun, glad to wake up to the note from CCP Falcon, reddit, and EN24 haha. As of now I have traded a NYX and sold a few assets to get the USS CONCORDOKKEN II, with an updated fit from the CONCODOKKEN 1, which will be more carefully memed next time especially since I paid ISK for it.
UPDATE: We now have the statement of Cpt Blastahoe, who led the group of capsuleers to kill the Marshal:
Me and a few corp mates were sitting in Nenn just hanging out when Nikolai mentioned something about bait. He said that we should bring a gf to fight his Marshal. At first we really didn't think much of it,  just a battleship to fight. Only after, we realized it was the first loss ever. Was friends with the Marshal pilot in some chat channels and he has always been really cool. Much respect to him for bringing out to fight and for being a good sport, saying gf, and acting like an EVE Online pilot should. All in all,  we were of course happy to have killed it but in all honesty Nikolai deserves credit for being a badass.
I'd say the conclusion here is that even when performed on purpose, fights including the first kills/losses of a ship are always interesting. Some would call it the 'alpha strike' of the ship, and I'd agree, there must be something to it.
---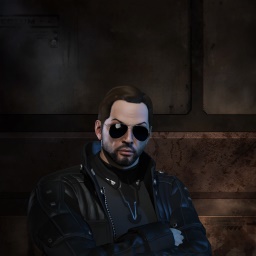 Mirai Kautsuo is a casual player with a love for all things industry. Currently, he's involved in low-level ratting in HS and some salvaging operations. Yes, your average carebear. Preferred contact method: in-game mail or convo to Mirai Kautsuo or find me in the EN24 Discord server under the same name.