In our last Faction Warfare update, the fate of Caldari-controlled Tama was still up in the air: Gallente Militia forces had been sieging it since the Caldari took the infamous system just a few days earlier, and a propaganda war went hand in hand with the conflict in Tama.
However, shortly after we went to press, GalMil rallied to the cause in large numbers, and with a quick round-the-clock effort, they managed to flip Tama back to the Federation in no time. Caldari representatives complained about uncle Snuff helping the Gallente, and about the timing of this push (like they did last year with Aivonen, GalMil took a symbolic system as many Caldari leaders convened at EVE Vegas). Still, the facts remain: the Caldari resistance in Tama was broken.
This proved to be a turning point in warzone control. Spearheaded by a relentless push by FEDUP forces, the Gallente started plexing system after system in northern Black Rise and it quickly became apparent that CalMil did not have an answer to the combined pressure of large numbers of Tier 3 LP farmers and a large and highly determined alliance willing to spend long hours plexing to take systems.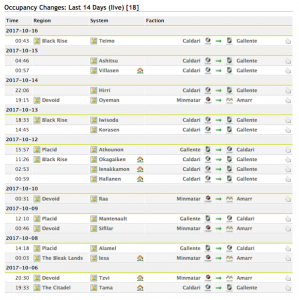 Over the past two weeks, another nine systems fell to the onslaught. Good fights were had at times, pure domination tactics were used at others. The war zone in Black Rise is now hotter than it has been in months: part of CalMil is making another push for Tama, and BLOC-led forces are scrambling to defend Kehjari and nearby systems in the North… All this activity has, of course, made the lowsec ecosystem more vibrant for the other denizens of Black Rise: pirate groups are camping gates and roaming around, and small groups of null sec dwellers come fishing for prey as well.
All eyes are now on CalMil: how will they respond to the rising tide of GalMil pressure? Will the north fall to FEDUPs offensive? Will the upcoming moon mining changes have an immediate effect on the war zone? Stay tuned…
Note: In the Amarr-Minmatar warzone, changes seem to be afoot as well: the underdog Amarr militia has managed to reclaim five systems from the Minmatar. More news as soon as we collect details!
__________
Lynx Artrald is a member of Nasty Boyz [-NBZ-] in Templis CALSF and remains a supporter of Black Shark Cult [JAWS]. You can usually find him derping about Black Rise or Placid, trying desperately to git gud at solo PvP, or in a CalMil fleet.