Happy Saturday, Tournament Fans!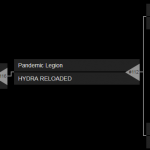 Today's tournament rounds went pretty much as expected, Pandemic Legion and HYDRA RELOADED came out on top of their respective matches. They'll face each other tomorrow at 1600.
Meanwhile, newcomers to the tournament scene: Pen Is Out, as well as L A Z E R H A W K S, Northern Coalition, and VYDRA RELOLDED emerged victorious from their own matches, sending their opponents to the elimination bracket.
Speaking of elimination, TEST and Brave showed their opponents the door, as did THE RONIN and skill urself who face each other tomorrow for the first match of Sunday. To round out the pairings, WE FORM VOLTA and Bright Side of Death will go on to fight another day. Things are heating up as we see the final elimination rounds tomorrow and the best-of-three playoffs begin.
Next weekend will have the semifinals and finals of Alliance Tournament XV. Who will emerge triumphant? Will it be a pedigree team from tournaments past? Or will the Cinderella stories find their happily ever after? Tune in to find out! We will continue our coverage as the drama plays on.
AT XV Brackets here.
AT XV Tournament Schedule here.
Official CCP Twitch Stream of AT XV here.
---
This has been Moon Moon Burdy for EveNews24