Somewhere between child-like space exploration whimsy and the appeal of cutthroat gameplay are thousands of different individuals trying to reach their goals in New Eden. Many of these goals involve recruiting members, making connections and finding people who may have similar goals in mind. What do all of these things have in common? They all require exposure. If no one knows what you are trying to accomplish, it can be impossible to build your corp or establish business connections.
People will repeatedly paste their recruitment advert in the recruitment channel, doing little to set themselves apart. They'll often make the mistake of listing twenty different things as possible activities in their corp. "We do industry but also a bit of pvp and also we go to wormhole space but we live in high sec but we also roam lowsec and we have plans to move to nullsec." I've never seen this kind of corp do too well. Pick something to specialize in. If you are one person making a corp and just hoping to recruit people, you won't get very far either. If you don't already have a handful of people interested in flying with you before you create your corp… don't create a corp.
But say you have a good vision for your corp, you already have some members that planned to join you before you created the entity. You're spending hours a day in the recruitment channel yet you only attract a few people. What's your mistake? You're in the recruitment channel to begin with. If you need exposure, trying to attract the five hundred or so people in the recruitment channel, most of which are recruiters or away from the keyboard, makes no sense.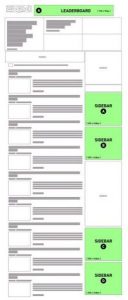 Note-Above graphic shows the Leaderboard and Sidebar advertising positions. We also have a Comments section banner postion as well. 
Instead you can have us advertise for you. If you look at the top banner or the side box you'll see other alliances and corporations already do this with us. EN24 receives thousands of unique hits a day which translates to you getting much more exposure than you could ever hope for in the recruitment channel or other venues. Our staff can create the artwork for your ad, and link it to your own site, forum post, Google document, or whatever. We also have people that can make videos and articles about your alliance.
"Hold on are you saying we can pay for you to say nice things about my corp or alliance?"
No, we're not going to lie for you. We can present your qualities and what you have to offer to the community but we'll be very realistic about your capabilities. We're not interested in promoting half-baked ideas, we're looking to provide a platform that can reach a wider audience for groups that have something to offer the community. It's up to you to become a success with the exposure you receive. The staff at EN24 are just a bunch of players like our readers who just enjoy Eve Online. We prefer to promote Eve to the Eve community and further enrich the experience everyone has.
My discord: Seraph IX Basarab#8359
---
Editor's Note:
We are happy to provide these services to any Alliance, Corp, or Entity in the game and I would glady run INN ads if they pay their bill. So if you're interested in getting exposure for your corporation/alliance, project, group, or anything Eve related then please reach out to me below. Last month our corporation ads received over 4800 clicks and received over 250,000 views. We offer advertising packages from 500 million to 3 billion a month. On a monthly basis we can provide you with analytics to show how many times your ad is seen and how many times someone clicked on it to navigate to your site, discord, or forum thread.
-Johann
Join our public discord at https://discord.gg/DJP7Aph
Editor in Chief: My Discord Tag is Johann Landier#1709 or you can EVE Mail me at Johann Landier or [email protected]