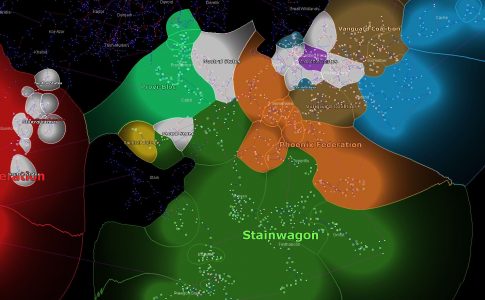 System: V-3YG7
Region: Catch
Yesterday, the Stain Wagon Coalition and their Imperium Allies rallied their banners to defend the system of V-3YG7 from the invading forces of TESTCO, Drone Walkers, Phoenix Coalition, and Vanguard Coalition. The system is key to Stain Wagon's defense of the region, and serves as their military's forward deployment base and headquarters.
Fighting started today over the system's Infrastructure Hub (I-HUB), whose final reinforcement timer was expiring, thus signaling it could be destroyed and replaced by TESTCO. Initial reports show that Imperium and Stain Wagon forces initially managed a solid defense by capturing several defensive nodes and managed to get within one node of securing the I-HUB. However, TESCO and Allies were able to stop the Imperium and Stain Wagon progression at 95% and subsequently turned the tide by destroying the I-HUB.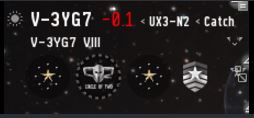 At approximately 2030 hours Eve-Time, Triget (Alliance Leader of Drone Walkers) anchored a new I-HUB, which was then activated for Circle-of-Two. The removal of the Stain Wagon I-HUB is significant, as it reset the system indexes which favor the defender, and caused the active jump bridge in the system to go offline. This will hamper further defensive operations in the region by slowing down logistics and reinforcements. Imperium and Stain Wagon forces promptly reinforced the new Circle of Two I-HUB, which is set to come out on January 9th at 1630 hrs.
Of Note:
TESTCO forces flew Maelstroms, Hurricanes, and Prophecies.
Imperium Forces flew Interceptors
Reports are surfacing that Imperium Forces have been told to leave a clone in the catch region and are authorized to return to Delve and rat. The following ping was reportedly sent out to Imperium Members:
Few Strategic Notes for the next few days:1) Please be reading the forums and watching pings for posted ops in your TZs. 2) Make sure you have a JUMP CLONE AND YOUR DEATH CLONE SET TO THE FORTIZAR in EX6. 3) PLEASE LEAVE YOUR SUBCAPS AND OTHER SHIPS IN CATCH!!!If you have done these three things, feel free to wander off to delve or whatever your other eve related is until we have more to do here in the catch area. THIS WAR IS NOT OVER however, after headshotting the hostile's new stager, I guess they are not excited about moving forward with their campaign. Once again, PLEASE LEAVE YOUR SUBCAPS AND OTHER SHIPS IN CATCH!!! See you around in delve and on fleets in the catch area!!!If you do want to remain in EX6 be ready for some combat ops tomorrow morning early EUTZ.~~~
The Jita market experienced a run on interceptors today for several hours as Imperium industrialist bought up all available hulls in attempt to support their military forces operations.
Reports indicated that today's military actions were solid victories for the invading TESTCO forces. Eve News 24 will continue to report on the ongoing war and provide a more in-depth article as more information becomes available.