Psychotic Tendencies. [TISHU] returned to prominence as an alliance during the events of World War Bee earlier this year and have featured in over 20 articles here on EN24 in the last year alone. Smaller than some of the more prominent powerhouses involved in the war, they still had a sizeable super capital fleet and were more than capable of punching above their weight.
TISHU was one of the early contractors in WWB and was tasked specifically with targeting the now mothballed Space Monkey's Alliance [SMA]. They were widely credited with SMA's eventual demise. Even before the MBC had become a thing, TISHU allong with Lowsec Voltron were fighting Imperium advances into lowsec as far back as November 2015. During the war they were praised for their heavy lifting contribution to the war effort. Reddit user meowtiger writes
TISHU literally did more grinding than any other MBC member alliance during the march-may phase of the war. expert supercapital fc john blathos (and also capri but jb gets more credit) was out literally every fucking day scouting poses for us to assblast with our mondo super fleet, and we grinded offline sticks for hours, every fucking day, for weeks
we were the most active supercapital-usng alliance in eve in april '16, by fucking miles, killing almost exclusively offline sticks and pos mods, and i have the stats to prove it [here and  here]
But not everything seemed to be going well within TISHU, which was first hinted at by numbers hitting their peak on the 15th of July this year (approximately 850 members) and then dropping slowly by a few members here and there over the next following weeks until the last 4 days where 5 member corporations left the alliance. This made a total of 5 corporations to leave in the month previous, causing numbers to plummet to 197 members. The majority of which (181) currently reside in TISHU's primary corporation Adversity. [AVRSE]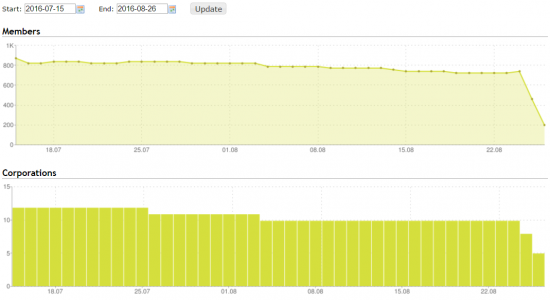 For many pundits this has come as somewhat a shock that one of the more active and powerful groups as part of the war would so spectacularly fall apart only a few months after. This prompted a number of reddit threads on the topic including this one which has garnered some 237 comments as people try to work out just why this happened.
The first signs of trouble appeared when long time leader Lex Arson gave control of the executor corp and Adversity to the second in command and logistics director Lich Reaper as of the beginning of this month.

The reasons for this are not widely understood as the change was not made very public. But in the reddit thread there has been speculation that a number of disastrous super capital ship losses may have been partly to blame. This included loss of 8 supercarriers to a Snuffed Out ambush on the 6th of June just two months prior.
In response to the question on the reddit thread Lex Arson responds with a number of insightful responses.
It was some time towards the end of WWB when dudes were just burned out from months of campaigning, we were doing shit in fade without any help for a lot of months which was taxing.

Cloud Ring was new and exciting for a few weeks as well when we took big fights in syndicate, Lowsec, fountain, and pure blind, but after deploying back into Saranen we just sat around for like two weeks the momentum we had building stopped and then just never really recovered.

The alliance split into three parts, the people who kept pushing for and enabling content and fights while we lived in Cloud Ring; the people who quit to play other games and then made up every excuse on the planet not to come back; and the idiots trigun recruited so they could make money off ratting taxes and feel better about themselves.

If I could do it all over again, I wouldn't have recruited trigun lmao.
In many of the responses the corp Tri-gun [3-GUN] is mentioned regularly in a negative way. Caprisunkraftfoods a former senior member of the The Suicide Kings [T-S-K] member expanded on this when asked why Trigun seemed to be host to a lot of blame.
Let me be clear, the issues with trigun were purely leadership level. The majority of their line members were perfectly cool dudes I got on well with.

So trigun are one of the realllly old corps from years gone by of TISHU. Back when the earth was young, and half of their content was fighting with RnK around Syndicate and Solitude. Their CEO had made noises about wanting to get them active again, so in they came and a couple dudes started turning up on fleets. They weren't really pulling their weight, but hey old bros and they seemed like good dudes.

Then they started recruiting, like a fuck load. People that were inactive, people that were really obviously spies, people that were just J4G ratters, people that just didn't fit culturally, and then worst of all merged some FETID corp into them. We talked to them constantly about this and very calmly at a leadership level, but they were totally defensive about any criticism, any specific details, anything. Nothing was taken on board. The last month it go to a point where we hadn't yet decided to disband, but either way Trigun was 100% definitely getting kicked after we left Cloud Ring.

My favourite part was in a leadership meeting last month I started going through their recruitment forum on comms. Was like, "hey this guy's been in corp 6 weeks and has 4 killmails" "oh he had to go do rl stuff" "… right, okay well what about this guy. he's been in corp 5 weeks and has 5 killmails, none of them in fleets, and has been causing a ton of ratting drama." "he's an old bro, don't mind him". "… right okay what about this guy"… you get the idea. Let's not even get into the unstronted super building pos which absolutely definitely was a spy with roles and they refused to accept this and hung the guy who ended up paying everyone back out of his own wallet to dry for it.

By far the worst group I've ever had to deal with on a leadership level, including Brave.
TISHU currently holds 32 systems in Cloud Ring.  But with its corporations and key members going their separate ways it appears the Imperium friendly Initiative Mercenaries [IM] are actively looking to take the space for themselves, having claimed two systems today.
TISHU has a history of active / inactive cycles where it seemingly crumbles away only to return after a few months of dormancy. Will this cycle repeat, with TISHU returning to a position of power and relevance in the future? Leave your thoughts, ideas or wild speculation in the comments below.