Two long-time member corporations from NCdot, Macabre Votum [MV] and Nex Exercitus [NEXE], have broken off to form a new alliance, Memento Moriendo [memom]. Members from Ever Flow have joined them as well. Departures are not uncommon in NCdot. Earlier in the year Adversity moved out to reform their old alliance Psychotic Tendencies with former Black Legion corps recruited in, and Hax ended up in Shadow Cartel.
Both Adversity and Hax had joined for a short while, but M.V. and NEXE had a much longer tenure. Both corps also have a sizable amount of super capitals in their arsenals.
Despite all these corporations moving on, NCdot is demonstrably stable. New corporations, Free-Space-Ranger, Shiva, Tai-Chi (ex-Nulli) and Wrecking Shots (ex-BL) had moved in prior to M.V. and NEXE's departures.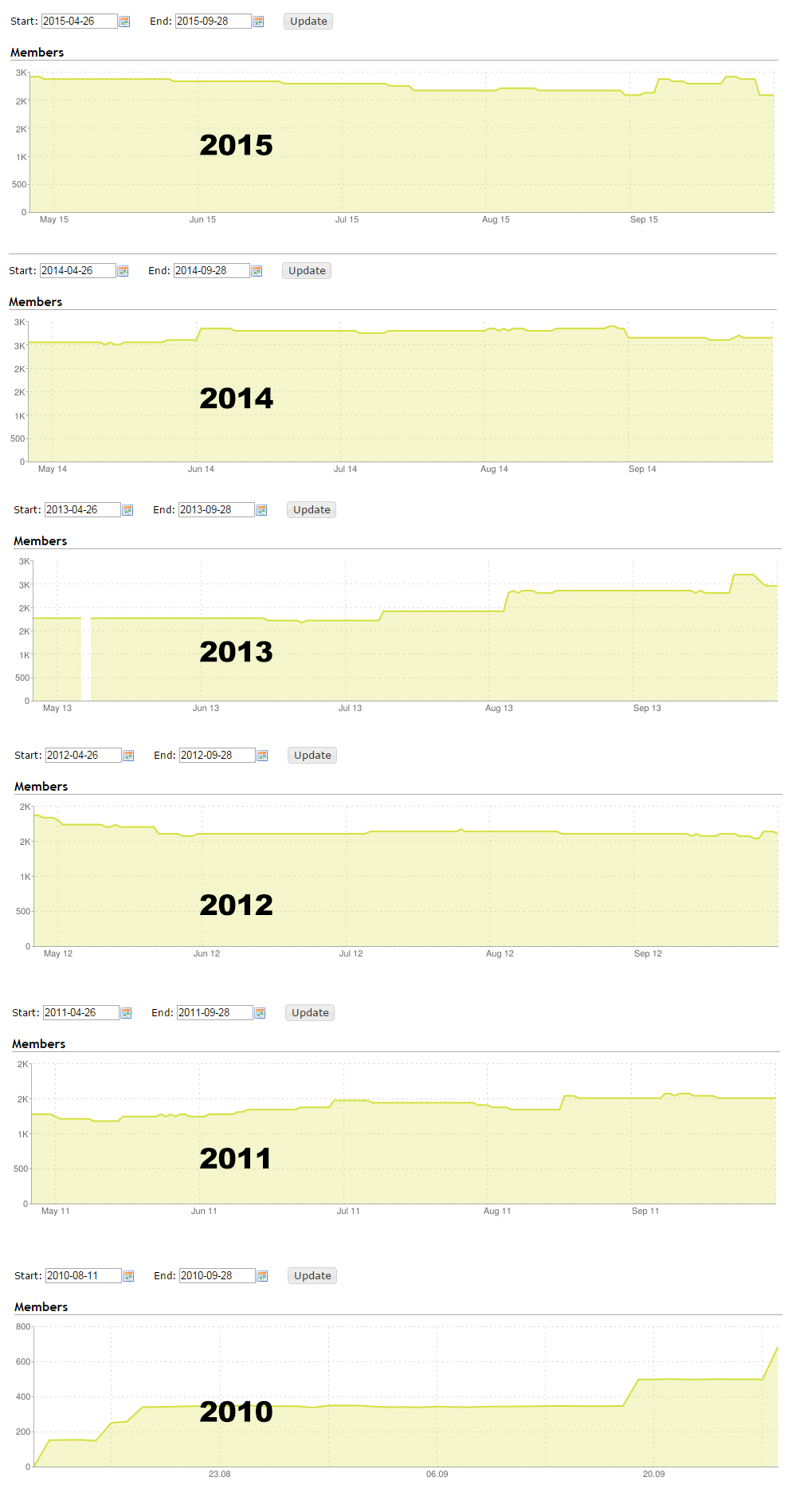 This begs the question: If you are not being forced out, why leave?
Leaving NC. is maybe the hardest call I have ever had to make in my time as CEO of MV… because NC. has been good for us during the last 2.5 years that we have been with them.  …We saw as a corp our numbers were dropping (due to new sov and jump mechanics).

The hardest thing is to stay with your own corp members, listen to them, and see what you can offer them as CEO and Corp leadership to keep them happy. And sometimes you have to put your own feelings on the background… We came to a conclusion of leaving NC. and start something on our own. Start something that allow our corp members to do what they want to do in this game besides PVP and not being part of a separated alt alliance or corp but just be in one.

I still like NC. and if it wasn't for dropping members we still would be there.  — TF20AlchemyX, CEO M.V.
We offered [M.V.] every chance to be active and participate while on deployment but they still couldn't get activity up. Their issues [are] more about what they need as a corps: space and a place to call home would be one of them. They weren't happy with purging inactive members from their corps. I would say [TF20AlchemyX] made the right decision all things considered.

NEXE however since making the decision… have lost, to date, 20 members to other ncdot corps so obviously the issues are deeper than it being about the alliance they are in. — Vince Draken, Leader of NCdot
Some US timezone NEXE members did go to Burn Eden (UDIE), to join other former NEXE members taht had moved months earlier. Notice in the graphs below a spike in UDIE's membership.
There are a multitude of reasons we left. The main one was that many members did not feel that the alliance was heading in the right direction. NEXE has several old players that wish to have a home in eve. So with some friends, we have set out on this journey to find just that. Some 6-7 us tz players where happy with the situation in NC and they decided to stay with their alts.

This is a new chapter for us that we are really excited about. — Selest Cayal, CEO NEXE
The Corporation Life-Cycle
NCdot is very strict about eliminating inactive players, and as corporations are forced to shed inactives their numbers and influence drop within the alliance. Once a corporation gets below 50 pilots, their own members look around for a more secure future. Compounding this, new applicants normally apply to the better-known corporations with larger membership, because membership numbers equate with influence. Shy applicants also seek larger groups to hide in, so their activity levels are not scrutinized as much. This puts smaller or less famous corps into a losing cycle.

The targets NCdot chooses, Imperium currently, means NCdot has to get enough members just to get near a 2:1 ratio so they can be competitive. This in turn puts CEO's under a lot of pressure to keep PvP activity up or face expulsion or forced mergers.
Desperate recruitment often works against a corp since less qualified pilots can get in and lower the reputation of the corp, which in turn lowers the reputation of the alliance. In most cases the teasing is seen as hazing, but it can have lasting affects on a corp. NCdot heads this off by setting high alliance standards: new recruits to any corporation must have; 1,500 kills, 40 million skillpoints, and a viable capital ship pilot. Any recruit has only one chance to apply. If rejected, the pilot cannot re-apply to any other corp. All applicants are publicly displayed and commented on, it is open to public and cross-corporate scrutiny. Merciful CEO's will quietly inform recruits to withdraw before they are rejected so they can try again with someone else down the road.
No one is sacred. Vince Draken recently kicked out his own corp, D00M., that founded NCdot. He moved to the leading corp Burning Napalm (SM3LL) months ago and left D00M behind. However some corps get pressured less due to their ability to contribute in other ways. Corporations with FC's, numerous Titans, or other valuables often face less pressure. CEO's are hungry for FC's and competent Titan pilots. Incompetent Titan pilots get kicked after they get killed, so if you are going down in a Super you'd better make it look good because you will get interviewed after action. Any expensive death, for that matter, will put you under scrutiny. It wrecks the corp's and alliance's combat efficiency (kill:death ratio).
NCdot can afford these high standards because competitive players and corps want to graduate to high levels of game-play. There are certainly many exclusive alliances in EVE, but few have the power profile that NCdot projects. At Fanfest this year, CCP Quant showed that Pandemic Legion and NCdot were the centers of experienced players with multiple accounts. These two indicators point to the most competitive players because "number of accounts" and "years played" work together to produce power the projection of a player.  Skillpoints, and accounts to wield the skillpoint are a sign of true PVP potency, and since both are very expensive to attain, usually only serious players wield them. Who else would pay for multiple PvP accounts and take the time to develop them?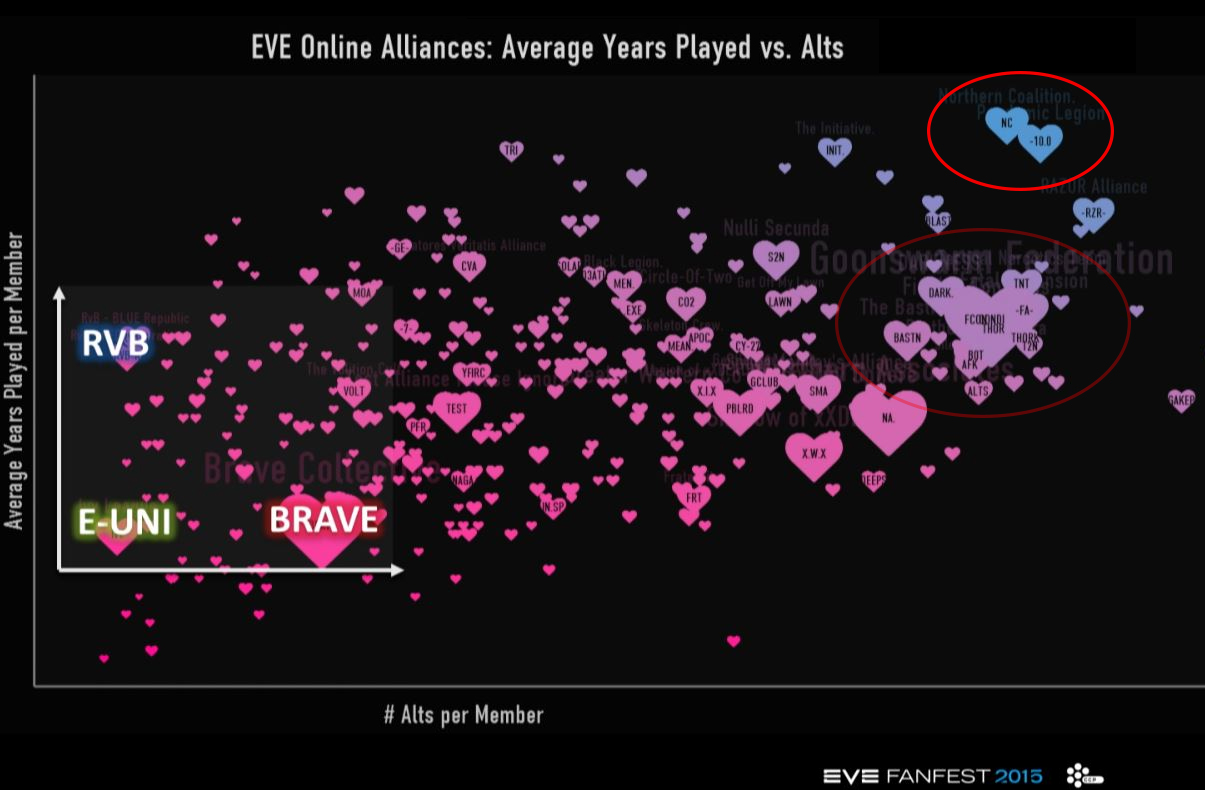 The Imperium, known as the most powerful entity in EVE online is a coalition of alliances that on their own do not equal either NCdot or PL, but under the administration of Goonswarm are able to resist either of them, and possibly both at the same time. In both cases serious players gravitate towards safety in numbers, the difference is that the more powerful players are that group up, the less you need be safe. This is the reality of "Elite PVP", it is not about the skill of the player, but about the tool-set (several accounts with high skillpoints). It follows that most players with a powerful tool-set know how to use them, but that's not always the case.
New Beginnings
Like the rare Dust 514 trailer, corporations evolve from the particles of other corporations in a constant search for stasis.  Some corps live a long time, years in fact, but they are not the same corps they were when they started. The members come and go creating different peaks and valleys of activity. Only the corp name and start date remain, but there is value in these. They represent legacy.
The only thing that can kill a corp's name is merging or closing. Even then many corps are resurrected by adding a dot at the end, that tells you something about the value of a name. Asking a corp to trim inactive players, lowering their ability to survive, is not a small request, but merging is even harder for a CEO to do. Mergers usually happen when a player has inherited a corp and merges up into an alliance of note. Essentially the CEO has leveraged the value of a corp to move himself and fellow members to a better situation. A founding CEO that has built his corporation from scratch would have a harder time doing this, although it happens.
M.V. and NEXE are old and significant corporations. M.V. was in Morsus Mihi and Against All Authorities, while NEXE heralded from IT Alliance and Raiden. They command respect and both have a large supply of Titans and Super Capitals. In NCdot they were stable and regular fighters, but they had to follow NCdot into a nomadic lifestyle that as of yet has no purpose except to PvP. The corporations (M.V. and NEXE), left for survival and to fulfill obligations to their members that genuinely want a purpose.
Like Athena, breaking out of Zeus's head, Memento Moriendo [memom] comes into New Eden whole, as a regional powerhouse. They have already attracted another corp with experienced players and will no doubt attract others that see an opportunity to join established corps.

Notice the spike in recruitment for the corporation. These spikes happen when players are optimistic about the future. The CEO of this corp is Darekish, an old player (from Scorched Earth, Dead Terrorists, Nulli Secunda). Whether this is him, or a friend of his or a sold account is unknown, but if it is him the corp has a good CEO (despite the horrible corp name).
Conclusion
NCdot is busy menacing Imperium borders and a recent internal poll showed the large majority of members fully back the deployment. The new corporations are performing very well and Vince himself has returned to FC fleets along with Travis Musgrat, PK and the rest of the FC team. Vince, like NC of old, takes fleets right up to Imperium staging systems, camping them in their homes. NCdot will fight, even outnumbered, until the a new purpose arises. Wren that makes itself known they will pack up and move to wherever that leads.
Memento Moriendo is building up and already have a new purpose. They are unconstrained by NCdot's direction. NEXE reports a surge in activity from players that are optimistic again. The Memento Moriendo alliance is in the position of being approached by smaller corporations that want to be a part of something bigger than themselves. All this is the natural evolution of particles that makes up the highest levels of EVE's outlaw space, null-sec, for even a group called "Remember to Die" in latin (Memento Moriendo). There is no death, just change.