AD-5B8 – Geminate
Reports are coming in today of the first, in what may be many large scale battles over sovereignty in Geminate. Initial reports suggest that up to 636 players were involved in a conflict over infrastructure hub timers in the systems of AD-5B8 and 54-MF6 in Geminate.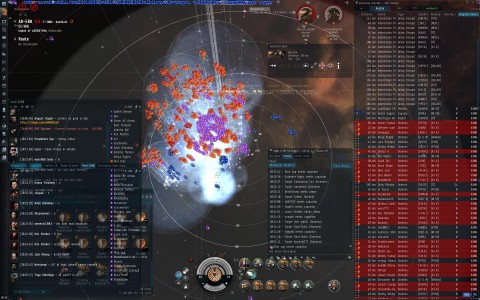 Battle rages from the perspective of a Black Legion dreadnought
The Attackers: Black Legion., SOLAR FLEET, Triumvirate. (13.56b Isk lost, Efficiency: 79%, 54 Ships lost)
The Defenders: Legion of xXDEATHXx, Total Absolution, Infinity Space. (50.87b Isk lost, Efficiency: 21%, 319 Ships lost)
The attackers, along with their dreads, opted to bring Tengus (SOLAR), Lokis (Black Legion.) and Ishtars (Triumvirate).
The defenders chose to bring a handful of triage carriers and Dominixes (xXDEATHXx), Scorpions (Total Absolution) and stealth bombers.
A brief order of events follows:
Black Legion had previously reinforced infrastructure hubs belonging to Legion of xXDEATHXx in AD-5B8 and 54-MF6 to create timers for this weekend.
xXDeathXx fail to form for the AD-5B8 timer.
A Total Absolution Scorpion fleet and xXDEATHXx Dominix fleet bridge to AD-5B8 as Black Legion assault the 54-MF6 Infrastructure Hub.
In addition, an xXDEATHXx bomber fleet is formed and ready to engage in 54-MF6.
As this particular constellation is a series of connected systems, Black Legion are able to manoeuvre into a position where they can engage xXDEATHXx coalition at their desired range by entering AD-5B8 from G-73MR.

With Black Legion now in position, and SOLAR and Triumvirate now in tow, the fight begins.
SOLAR are forced to retreat from the field with their FC being "Headshot" (Destroyed early on in the fight for tactical advantage)
Triumvirate Ishtars and Black Legion Lokis set to taking out xXDEATHXx coalition webbing ships before focusing on dominixes.
Around a third of the way through the battle, Black Legion and Triumvirate. turn their attention to the xXDEATHXx coalition triage capitals, making short work of them
SOLAR arrive back on field to assist Black Legion. and Triumvitate. in cleaning up the field.
A quick follow up Q&A.
Black Legion's raknor bile was available to comment and confirm the particulars of the fight and operation in general.
raknor bile: we are still very bemused that they took the fight as all our dreads and triage were with our fleet and well scouted
raknor bile: so a real big GF to xdeath and friends and we will see them at the final timers tomorrow

Phantra: great, and what if any strategic objective was achieved?
raknor bile: yes we put both the ad- and 54- ihubs into final armor timers

Phantra: So is there a bigger picture for Geminate or is this open to speculation?
raknor bile: our goals are currently to take the space owned by legion of xdeath and their allies
raknor bile: they have hired or asked Pandemic Legion to assist them in holding the space and so far have retaken all the ground we gained up until they deployed down here

Phantra: Is the current attention on Geminate indicative of the drone regions campaign going stale?
raknor bile: it is still apart of the campaign, we have just refocused because taking systems in Cache is next to impossible with Pandemic Legion staged there, we have also lost all our staging POS in the important bridging system of n-rael to the Pandemic Legion 'wrecking ball' fleet of Archons and Aeons

Phantra: Do you think that in any way campaigns such as this are becoming hindered by an unfair or unbalanced dynamic in the game when it comes to sovreignty and capital/supercapital superiority?
raknor bile: in a way yes but that is just the game, for example and timer that Pandemic Legion wants to win they just bring Archons and supers to but get no fights out of it so you win but have no fun
raknor bile: the sov mechanics are what they are
raknor bile: they are mainly used to get a timer to fight over

Phantra: Great, and last question – has todays good fight with xXdeath put any wind back into the sails? Is it preferable for you to be here to get good fights or to win the overall campaign objective?
raknor bile: we have contimued to have good numbers throut the campaign but there is no dening that todays fight will only increase our numberrs for the final timers tomorrow, and yeah the objective is great but you can ask almost anyone and they would rarther have a great fight than win the timer
raknor bile: this might be diferent if you are the defender and are actually losing sov/POS
Sounds like fun! A full link to the battle report can be found here. Unfortunately no one from the opposing side was available for comment at the time of writing. Should one become available the thread will be updated.
[If you have anything to add please contact me in-game or comment below]