Hello, I am Seraph IX Basarab and I've been contributing content to EN24 since 2011. I generally write opinion pieces concerning policy, meta strategy, in game tactics and a bit concerning the happenings in the shadier sides of Eve. I'm also the leader in a recently rebuild small corp known as Hades Effect that specializes in stealth warfare, intelligence gathering, mercenary work, and pirate activity in wormhole space, 0.0 and lowsec.
Phoebe Factors
There is no question that Pheobe has changed the face of warfare in Eve. The LY limit imposed upon capital ships has sent leaders and strategists across Eve scrambling to the drawing board to figure out new travel lanes and choke points. Contrary to what some have predicted, Phoebe has not decreased the use of capital ships but rather increased it. No longer does every lone carrier that undocks have to worry about that terrible cyno that would link dozens if not hundreds of supers to the soon-to-be wreck. Smaller groups especially in lowsec have seen an increase of use in their areas of combat. Now entities such as Pandemic Legion, Northern CoaltionDOT, Black Legion and so on, have to consider the costly effects of moving their capital fleets across space for a simple gank.
The changes have gone even further for those watching the Eve influence maps and dotlan. Mostly recently we have seen two major withdrawals by both PL and the CFC with the former giving up much of their territory in the Drone Regions while on the opposite end of New Eden saw the CFC withdrawing from the south west to defend their new borders at Fountain.
Our Task at Hand
The purpose of this article is to consider some of the grand strategies that could be implemented in the growing conflict as the CFC seeks to defend its borders from a multitude of enemies. Entities such as DARKNESS, Kadeshi and NCdot have amassed their forces in the south west where once flew the flag of the CFC. In NPC Venal, Black Legion has once again set themselves to attack valuable CFC income sources ablaze. How has the CFC dealt with these challenges and what sort of strategy are they perusing to vanquish their foes? On the other side, what sort of lessons has N3 and BL learned in the past and could they apply these lessons to capitalize on the CFC's receding borders?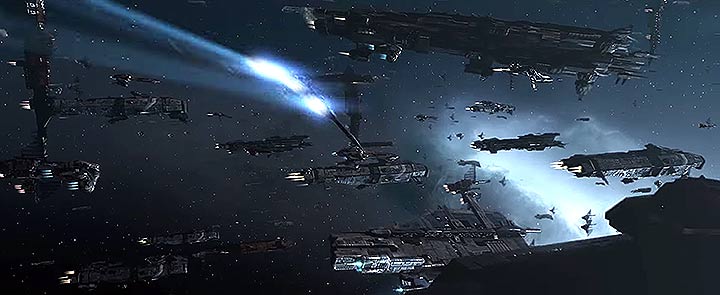 The Vengeful Queen Bee and the Black Knight King of the North
At Mittani's media outlet, the CFC leader outlined his sentiment concerning Black Legion. Now usually Mittani can generally pose even the most dire situations as completely under his control. If he's good at one thing, it's making masses of his followers that things are going "according to plan." It was quite telling this time around when the "cool collected smug-n-sarcastic" Mittani gave way to someone that seemed outright upset. This isn't some thinly veiled attempt to say "umad" but a sincere observation and anyone can compare and contrast previous well written coalition addresses to the more recent one.
The Mittani, and Elo Knight (leader and head FC of BL) have had a one sided love hate relationship. During the Dotbros (NCdot, Nulli, BL) war after the fall of OTEC a few years back, Mittani wrote in admiration concerning Elo's ability to lead fleets. In fact he suggested that Elo was the only FC on the Dotbros side that kept the CFC from acquiring a total and overwhelming victory in Tribute. As the CFC numbers poured into Tribute, NCdot failed to manage the opening of a 2nd front in the east against Solar, and internal drama concerning internet romance on the Dotbros side, the small coalition broke apart.
Apparently Elo had been listening to Mittani's compliments and had succumbed to the silver tongued ex-lawyer. It also didn't hurt that Mittani threw a pile of ISK at his knight. Elo would lead Black Legion as Mittani's mercenary force during the conflict in Fountain which saw TEST Alliance and Tribal Band shattered and stripped of their territory. Afterward BL would serve as a strong force in the south as the CFC propped up "RUSRUS" against N3/PL.
Sometime during the conflict there was a rift between Black Legion and the CFC. I had contacted some members of BL at the time and the general sentiment was that the CFC now felt and acted as if they could tell BL what to do. Obviously Elo disagreed with having his alliance treated in that manner and the modern divide between the BL and CFC formed.
The Pieces on the Board Today
I'm writing this on the night of November 26th. With this conflict going as it goes, developments may appear that may conflict with this article or reinforce it. The rest should be written with that in mind.
The CFC had chosen Fountain as its new south facing border and yet they still need to contend with BL's incursion in the heart of the north, NPC Venal. With Phoebe's (rightful) limitation concerning jump range for capital ships, the CFC now needs to divide its capital forces across several regions. As Germany can tell you, two front wars are not the easiest to handle. However, if any sov holding entity can accomplish this task, it would be the CFC with it's unrivaled logistical capabilities. This attribute will be stressed more than ever as N3 seeks to push into Fountain while Black Legion strikes out from Venal.
Handicaps of the Heavy Weights
It's fair to point out that the CFC is not known for winning "hard wars." The fall of BoB is often touted as a major landmark victory for Goons but many of the factors at play talked about have entered the realm of myth. Often it's forgotten that soon after IT Alliance rose the Goons themselves lost all of their territory in an even more unflattering manner than BoB had. The Goon victory that saw them conquer the north from White Noise, had more to do with internal Russian politics than any sort of Goon military victory.
The CFC victory over Dotbros in Tribute likewise had non-military factors that played a major role. I believe I was one of the first writers if not the writer to point out that the conflict in Tribute was taking much longer than one would expect. This spawned the CFC motto "not winning fast enough" as a sarcastic meme supposedly at the expense of observers. The real meaning behind "not winning fast enough" was that when you see a 900 pound gorilla enter a boxing match with a middle weight fighter, you expect the gorilla to win. The surprising part is when the middle weight fighter manages to survive 8 rounds.
The Persian's still won fighting the three hundred Spartans but today nobody makes movies in a positive light concerning their victory. Defiance of the few against the many is an extremely potent theme in the human mind and only those who fail to grasp those implications sarcastically remark "not winning fast enough." Over all the war had a positive impact for both sides, the CFC updated their old doctrines and fought a tried and tested enemy. BL on the other hand was solidified as a strong military entity and its image grew to what we know today.
Fountain is held up as a landmark victory for the CFC where they fought and defeated not only TEST but the overwhelming majority of nullsec that formed up N3/PL. But the reality was that TEST was an alliance that had the numbers of Goonswarm but only a fraction of their leadership and even less organization. N3/PL's involvement at worst, simply stalled the CFC's advance against their former allies and the swiftness by which TEST leadership abandoned territory surprised even Mittani himself who had expected them to turtle up in Delve.
Some will take this as some sort of attack against the CFC or me saying "they can't win a REAL fight." Here's the thing, to me a "real fight" is an idiotic concept by people who expect warfare to be some clean organized ritualized event with rules and boundaries. I'm the sort of guy that will bring five falcons to a twenty man fleet. I'll headshot every single FC that speaks up on comms. I'll throw dirt in my opponents eyes, drug their food, call their mothers tramps and their fathers bastards and do whatever else possible to throw my enemy off guard. You win by cunning and creativity, not by delusions of space bushido. Even the majority of the tenets that make real Samurai Bushido was mostly composed in an era that no longer saw much use for Samurai. Instead of actually fighting, Samurai wrote romanticized accounts of what in their view a Samurai was suppose to do. "Fight to the last man" is easy to write about when you're fat on sushi, drunk with sake and sleeping in piles of prostitutes never having to follow through with the actions you romanticize about.
In actuality if the past has shown anything, it is that the CFC knows when to fight. You don't fight an opponent at full strength or when terms are not favorable. We saw this during the Halloween War. Even though N3/PL's Titan loss at B-R was unlike anything previously seen in magnitude of destruction, the CFC opted to pull out and cease supporting their Russian allies. Suddenly the "irrelevant backward NPC dwellers" became top priority for the CFC and everything on a front they were seemingly poised to win was dropped. But this was a smart move. Mittani knew that victory in the south was impossible as trying to prop up the divided RUS was as plausible as N3/PL propping up TEST in the earlier conflict. Instead they took B-R as a major victory for propaganda purposes and simply remarked that the RUS were unable to maintain their own front.
Black Legion has its own set of limitations. While BL knows how to win set piece battles and harass the hell out of the CFC in the north, their abilities on the meta level are lacking. BL can have 10 to 1 win ratio but if they don't make any one of their victories progress beyond the battlefield, and the CFC can make their 1 win go further, it'll be for nothing in the long run. Right now it seems highly unlikely that BL will swell in numbers and start conquering the north. They lack the numbers and logistical infrastructure and organization that the CFC has. Furthermore Black Legion lives or dies on Elo Knight. Say what you will but the guy has an amazingly powerful cult of personality that unlike the Mittani's, is not at all ironic. People will form up, sit on a Titan for 4 hours and if Elo tells them, go dock back up without any groans of resentment. They'll throw their life saving's worth of capital ships into a fight if Elo tells them they'll win.
This may sound like a remarkable attribute to have but unfortunately this also presents as a single target to attack for the CFC. I'm not talking about headshooting him in fleet engagements but rather attack him as a leader. If you manage to destroy Elo's image and credibility and somehow remove him from the equation, Black Legion ceases to be the alliance that it is. The other major issue with the "elite pvp culture" entities such as BL is that they're often fairly ego driven, something which I'll get into later in the article.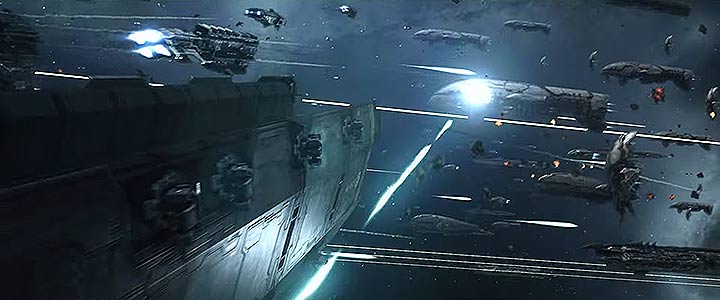 Strategies at Play
"Unde dai si unde crapa." This is a saying that roughly translates as "Where you hit is not always where it cracks." In essence it refers to how actions may have unforeseeable consequences, or results that are far removed from the source of the impact. This portion of the article is going to be a bit hard to follow for some as one aspect in one region of space will move us across New Eden to something that may be seemingly unrelated. Perspectives will shift from one side to another but I'll try my best to explain as we go on.
So Black Legion can continue having success in their battles up north, but if no headway is made claiming territory and putting a bigger hurting on infrastructure and the cultural status quo of the CFC, nothing much will change. As difficult as it may be for some of the egos in BL to hear, the CFC will not lose their domains on losses in Venal. BL can hand the CFC stunning defeats, and so far that is how the fighting has gone. But without a solid push and take over of actual territory, there won't be a lasting effect. What can BL do for this?
Mittani already referred to it in his "Vengeance is Ours" speech. Call upon N3 in the south west to push Fountain. Fatal Ascension, the CFC's wardens in the west, have been handed stunning defeat after defeat from their opponents. If N3 makes an actual concentrated push into Fountain while BL steps up their northern campaign into threatening CFC sov, something will have to give.
There is also one more element that may be over looked: Absolution Alliance. Their leader is ex White Noise who may have some level of resentment toward the CFC. If BL would be willing to reach out to Absolution, they could have a third front pushing into the CFC's renter lands of Vale of the Silent.
This all depends on how nicely the CFC's opposition can get along with one another. It's unlikely that N3 in the south west would necessarily exchange bad words with Elo and his leadership circle. One point of concern for them would have to be the relationship between Vince Draken and Sort Dragon. I can't say I know how well they get along but the CFC would do well to try to drive a wedge between the two. Although they left the RUS hang high and dry, they could also motivate them to push N3's holdings in the south and force N3 to fight a two front war as well limiting their ability to push Fountain.
Obviously it's difficult to predict what exactly will happen. The actions and reactions of other players across the universe will likewise have a large effect on the war to be had. The wild wild east is turning into a large territory grab for the likes of Initiative, Gorgon Empire and Red Alliance. How much money would it cost the CFC to hire Pandemic Legion to pacify Venal and match Black Legion? These factors depend on the CFC's leadership ability to maintain the narrative.
One last thing I would have liked to note, the CFC was foolish to allow Initiative to go to Curse. Instead they should have given them every reason possible to hold up the front in Fountain and pull whatever forces they could from the surrounding regions. I find it hard to imagine a successful defense of Fountain lead by Fatal Ascension. If Fountain does fall, which so far it seems like it likely will, Mittani would be wise to begin spinning this campaign as a "scorched earth tactic" to drain N3's momentum into CFC core systems. In any case the loss of the south west was extremely costly with the Mittani himself remarking that the south west is "the greatest piece of realestate in Eve with the highest concentration of R64s."
Obligatory "Winter is Coming"
Most recently the CFC destroyed a Space Monkey Alliance member's Titan over the supposed claim he was a BL spy. While assurances have been made that there is "evidence", it has not been forth coming due to *reasons.* The CFC's only possible move here is to continue insisting on this narrative regardless of how true or false it may be. In any case they are down a Titan and have no victories against the BL as of yet to show for it. CFC state media has been extremely quiet concerning the many fights they've had both in Fountain and Venal. It will certainly be interesting to see how Phoebe plays out this winter. One thing is left without question, this coming winter war will be by far the most interesting one in half a decade.
– Seraph IX Basarab