If you have been following the recent developments in Cloud Ring then you might be wondering what's at stake for Goonswarm Federation and allies by deploying north. You also might wonder what's at risk? Well then you should take a look at their kill-board.
During the last two days, a constant stream of Rorqual mining losses has been populating the red column of their kill-board. Historically, the sheer size of their super capital fleet might prove a significant deterrent to anyone willing to disrupt their industrial operations in the Delve region, the risk of being counter dropped by GSF supers was just too high. This was a fact until last week when their fleet went up north.
When the Goonswarm Federation super capital move ops started it didn't take long for opportunistic pilots to escalate a campaign targeting the now vulnerable industrialists left in Delve, more specifically its miners. It was following the loss of the fifth Rorqual in a row on the same day that we noticed something was amiss.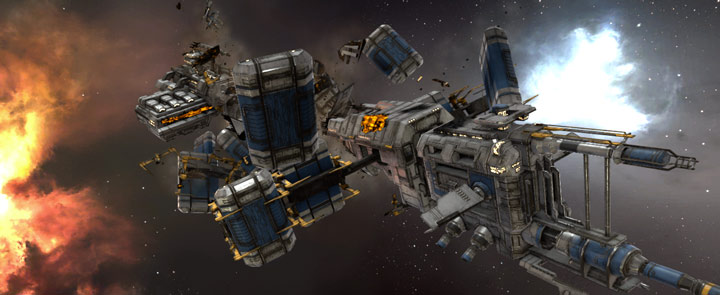 Enter Pandemic Legion's Goon Whaling program which pretty much says it all. EN24 talked to Vic Jefferson from Pandemic Legion who's in charge of running the effort.
Our first impression was to assume this whole "Goon Whaling Campaign" was part of the previously announced "Bee Control" initiative put forward by RiotRick from Solyaris Chtonium alliance. However, Vic corrected us by mentioning that despite how much he likes RickRiot and his Bee Control Program they are in no way related. He also pointed out how they have been down there in Delve long before the whole Bee Control program started.
Checking the killboards a familiar face was featured prominently among the culprits of such destruction, an ex-corp mate. I swiftly opened a convo with him and started shooting questions:
EN24: who are these Brothers in Arm and other guys you have been pounding?
Jason Knight: Remember the Imperium alliance? Most of their corps ended up in goons now.

EN24: How has the deployment of goons up north affected the CTA/defense responses? Have u been moving with impunity?

Jason Knight: there is minimal to no response. Most times people warp in subcaps or caps to clear tackle, but we have had no problems fighting it off, and we have been dropping dreads and carriers sparingly, without a worry of getting countered, and most times the pilots give up and don't even launch fighters or drones to fight

EN24: What about the PANIC modules, I have noticed some of them have it installed, shouldn't that give time for the cavalry to arrive?

Jason Knight: Some use them but not all. And most times we just wait it out and void-bomb them and insta-pop the Rorqs but we have cyno jammers down almost always so there's not much they can do to bring in help.
Krabbing Blues
Jason suggested talking with the guy in charge, Vic Jefferson from ElitistOps (PL). After being asked how much the GoonSwarm Deployment in the north has made their activities easier, Vic mentioned that while they seldom encountered much trouble dropping; having the target industrials no longer under the GSF's super capital umbrella has undoubtedly made a considerable difference and allowed them to embolden their actions.
EN24: all right, the first. The EN24 team is wondering if your actions are related to the RiotRick initiative down there?

Vic Jefferson: They were in no way influenced by them. Rick is a great person, and we love Bee Control. But we have been down here in Delve for months

EN24: I have been checking the numbers; today and yesterday your success rate has been exponential. What changed?

Vic Jefferson: Well first I had trouble dropping things. I got frustrated and shouted a bunch. Then I heard a delightful jingle start playing and popped a mentos. All the sudden we were winning bigly! Okay, that's' the comedic answer, but honestly, lots of people have invested a lot of time to make fleets more deadly. And they are the best! I mean I've been running my gimmick mostly the same for a very long time. You can see how thinly spread competence is among goon-kind when they cannot lean on the crutch of a super umbrella.

CFC basically rolled down a hill made of failed renter alliances, and when it reaches the bottom called itself 'The Imperium'. Be the change you want to see in Delve. And most of the stuff is former Imperium members.

R: any shouts?

Vic Jefferson: I shout out to all the Loyal of Poitot, who have made these quality dunks possible!
As a result, Delve killboard have seen an huge increase in Rorquals kills alone, going from one or two per day to more than twenty-seven (27) dead mining capitals in the last 48 hours.
On top of that, three Hels has been caught in the same period.
Closing commentaries
Delve is the most densely mined and ratted regions in the game. Without the ever-present super capital fleet home to protected it the region has become one of the most fertile grounds for capital dunking aficionados. It will be left to see how long Pandemic Legion and co. will be able to keep operating with immunity.
Two thoughts come to mind after staring the 330+bil kill mail performance of the goon whaling operation; there is no better moment in the south to be either a hot drop ganker… or a Rorqual mining ship builder.
[ Zkill – rorqual Losses in Delve ]