A few days ago, CCP Falcon released a Dev Blog announcing the final approved candidates for this years Council of Stellar Management, a full 3 days earlier than anticipated.
In his post he explains: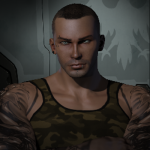 In total we have 77 (edit now 76) approved candidates that are viewable here for your consideration when voting. In total, we had an even 100 apllications for candidacy, with two failing to meet the requirements of the security check, and twenty one failing to send in a copy of their verified identity by the time candidacy closed. They were therefore not included in the final list of candidates.

77 candidates is a lot to pick from, so we suggest that you use Vote-Match, produced by former CSM member Diedra Vaal if you are not sure which candidates your interests align with. Vote-Match can be found here, and should be active with a full, updated list of candidates on February 24th.

Voting for CSM X begins on Wednesday, February 25th, so be sure to check out the list of candidates and make your selection. For further information on how to vote, and key dates surrounding the CSM X elections, see this blog by CCP Leeloo.
The original 77 approved applicants is probably one of the highest, if not the highest number of candidates approved for the election process, but this does however mean there is an overwhelming range of choices.
As mentioned in CCP Falcon's post – Eve Vote Match is one of the best tools around to quickly work out who's views and opinions most closely align with your own and is a service that has been dutifully updated every year without fail to help people who are not up on their space politics who they should be voting for. For the time being the sites Matching facility is not up and running to give all the candidates time to enter their responses of which there are still (at the time of writing) 20 candidates yet to submit their information. Using the Candidate Overview you can quickly see who has and has not submitted their information yet. As per the following example:-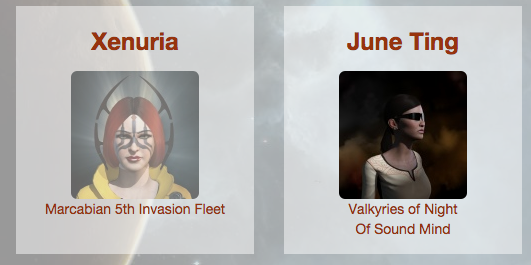 The Candidate on the left is greyed out as information is still to be submitted, the candidate on the right however has completed their submission.
However, for those of you who prefer to do your own research, the list below provides a full compilation of the candidates with links to (if they have been provided):
Names link to the candidates profile on the official CSM Candidate Page Entry (also viewable here)
Eve online CSM Campaign threads (you can also visit the forum by clicking here)
The candidates Eve Vote Match Page
Any websites the candidate may run which includes blogs
Links to the candidates social media and finally,
Link to the candidates Cap Stable Interview (you can also see all the CapStable Interviews on their website here)
It would be wrong of a news website to 'recommend' potential candidates, but as communication is a crucial part of the CSM Term as the members of the CSM will be required to collect and disseminate information both from CCP to the player base, and (more importantly) from the Playerbase to CCP. To that end, in order to help people work through which candidates may be worth looking at first I have provided a simple ranking system based on the activity of the candidate across various forms of media. This system is ranked in the same way the Eve Mastery system works and can be summarized as follows

  This candidate has provided little to no information either via the official forums or via the vote match website at time of publishing this article.

 This candidate has provided what can be considered the bare minimum but the candidate has published some form of platform via the forums.

This candidate has published their platform, also has additional methods of communication such as social media or a website or blog.

 This candidate has published their platform via the forums and has been interviewed on CapStable as part of their campaign.

This candidate has a fully published platform, uses various methods of communication such as social media and blogs and has been interviewed by cap stable and is generally very active in the Eve Community.
Disclaimer – These rankings are not in anyway meant to be construed as any form of recommendation on the suitability of any of the candidates and should not be taken as any form of endorsement from Eve News 24.
With that over and done with here is the final list of all 76 candidates for this years Council of Stellar Management.