Those of you who do not speak French may not be aware that there is a French site, similar to Eve News 24. It provides coverage of Eve news to the French speaking portion of the Eve population. At the end of each month, one of their members has been writing a roundup of the geopolitical events that happened during that month. Short and sweet, just the way you guys like it. The French version can be found here.  Here is an English translation, for those of you who ne parle pas français.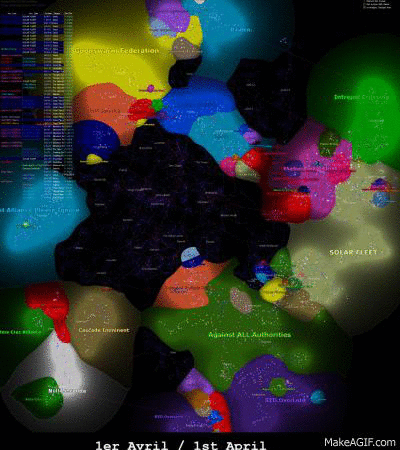 The North
The North is dynamic with the fall of Tenal after the assault by the Clusterfuck Coalition on Raiden. A rapid assault, which lasted barely ten days. The conflict spread into the NPC region of Venal, as the drive for control of the technetium moons continues.
The West
Everything is absolutely quiet in the west, we can note that Test Alliance Please Ignore is approaching 7,000 members, making it the second largest alliance in terms of members, after GoonSwarm Federation.
The Southwest
Cascade Imminent dropped their last sovereignty recently to Red Alliance, as mentioned before. Pandemic Legion arrived as a third party to the conflict between Red Alliance and  Nulli Secunda. This fighting is now mostly over, as Red Alliance has become entrenched Querious (their main base) and Nulli Secunda has a free run of Delve.
The South
Like the west, the south is extremely quiet, without any major conflicts since late 2010, except in Catch.
The Southeast
Cascade Imminent finished settling into Detorid. Imperial Legion seems to stand out as the main actor in Scalding Pass, while THE UNTHINKABLES benefit from the removal of Bringer Of Death by taking their constellations.
The Drone Regions
Solar Fleet has finished cleaning out the remains of Legion of xXDeathXx and leaving room for a variety of small alliances in Oasa & Malpais. Meanwhile, in Etherium Reach, we can look for the formation of a new coalition formed by Ethereal Dawn, Persona Non Gratis, Tribal Dragon, Dark Pheonix Rising & Imperial Legion. Their goal is to secure Etherium Reach and maybe a part of Kalevala Expense.
The Northeast
Giantsbane. moved deeper into Geminate, taking advantage of the departure of Red Alliance, like some other small alliances such as The Irukandji and Apocalyptic Legion. In Vale of the Silent, the departure/kick of The Ankou from Raiden. cause a loss of almost all the sovereignty Raiden had, which was mainly taken by Rolling Thunder, the renter alliance of Raiden. NCDOT & Ev0ke have also benefited from the gap to take some sovereignty and it is not impossible that more changes will happen here soon. As a final note, Raiden recently lost some super capitals following a trap jointly mounted by Brick Squad & GoonSwarm Federation.
[spoiler show="Did we mess up?"]
We want to give you guys the best possible intel, to post as fast as we can confirm it, but Eve being :Eve: is quite confusing. If we messed up with our intel, please contact us directly [email protected], provide the proof of it and we'll correct it immediately noting the change and bringing the correction on top of the article list.[/spoiler]
If you would like to send intel or contribute, feel free to use the form below:
[spoiler show="Submit Intel Here"]

[/spoiler]