Those of you who do not speak French may not be aware that there is a French site, similar to Eve News 24. It provides coverage of Eve news to the French speaking portion of the Eve population. At the end of each month, one of their members has been writing a roundup of the geopolitical events that happened during that month. Short and sweet, just the way you guys like it. The French version can be found here.  Here is an English translation, for those of you who ne parle pas français.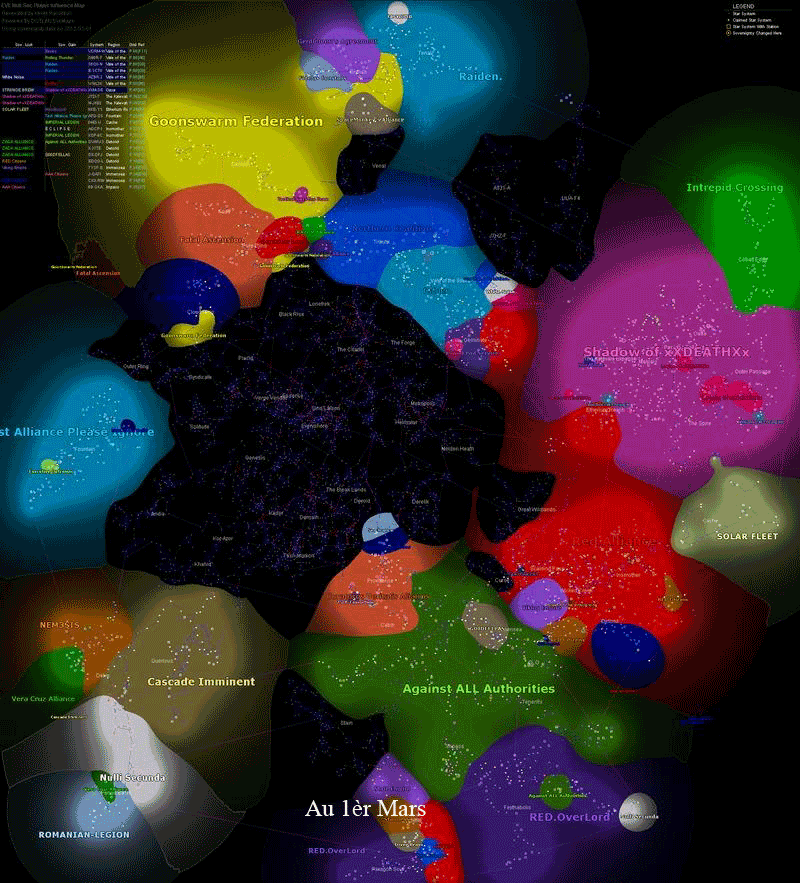 The North
There were some small changes of sovereignty in Tenal; systems acquired by Razor Alliance against Raidendot. In March, the north was calm, except for a few big fights and the loss of three titans by NCDOT at the end of March. This region may prove to be the scene of many more fights in the next few days.
The West
There were no changes in the west, aside from Elite Space Guild losing sovereignty to TEST Alliance Please Ignore. It seems that a misunderstanding between the former allies was the cause.
The Southwest
We can see the arrival of Red Alliance and pets (Red.Legion & Viking Empire) in Delve and Querious following their failure in Insmother. Nem3sis, who held the sovereignty in Delve, dropped it. In Querious, Cascade Imminent is also dropping its sovereignty to settle in Detorid following an exchange defined by Against All Authorities.  In Period Basis, Nulli Secunda took the opportunity to take the sov from Romanian Legion after a few local conflicts.  It is likely to see more regional changes in the coming months with a continued settlement of Red Alliance in Delve & Querious.
The South
The block of Against All Authorities is consolidating its newly acquired regions by installing various renter alliance. There were many small sov changes during the month of March.
The Southeast
Red Alliance has abandoned its sovereignty following their failure at the battle of C-J6MT.  Sovereignty is being distributed among various alliances such as Solar Fleet, GoodFellas, Cascade Imminent, Imperial Legion and other small entities.
Solar Fleet has gained fighting strength, following its previous ouster from drone regions. Now, with Against All Authorities as an ally, things seem to be going better for Solar Fleet.  However, they are fighting against a non-existent defender.
The Drone Regions
Legion of xXDeathXx has abandoned its renter alliance, Shadow of xXDeathXx and used it to buy time to evacuate its assets. Taking this opportunity, Intrepid Crossing invaded Oasa, while Solar Fleet attacks Outer Passage, The Spire, and Perrigen Falls.
Malpais is attacked by CORE Alliance and Flame Bridge, while Etherium Reach seems to go into the hand of Against All Authorities block as well as Occupational Hazzard, a mercenary alliance contracted by –A-.
We can also note the reformation of Ethereal Dawn, who held Etherium Reach between 2007 and 2009, seem to be taking back some of their former territory.
The Northeast
With the advantage of the departure of Red Alliance to Delve, Solar Fleet has begun to take their systems in Geminate. This region is also the midst of ownership change with a return of Brick Squad, a former resident during the time of the Northern Coalition.
The major players in Geminate are Raidendot and Solar Fleet.
Controlled Chaos, another former member of the northern coalition, and more recently a member of Red Arrow that Red Alliance disbanded, did not have the strength necessary to take some of Geminate as expected, once they were confronted by Solar Fleet.
We note in passing the disbanding of United Pod Service, a pet of the two ancient alliances: Red Alliance and Legion of xXDeathXx.
[spoiler show="Did we mess up?"]
We want to give you guys the best possible intel, to post as fast as we can confirm it, but Eve being :Eve: is quite confusing. If we messed up with our intel, please contact us directly [email protected], provide the proof of it and we'll correct it immediately noting the change and bringing the correction on top of the article list.[/spoiler]
If you would like to send intel or contribute, feel free to use the form below:
[spoiler show="Submit Intel Here"]

[/spoiler]